The Road to VersionSQL 2.0's first spotlight feature is the History of Changes window, a convenient history view right inside VersionSQL.
The History of Changes window displays every schema change that has been logged on the version control server. To access the log, right-click on a database or schema object and choose "View History." A window will appear displaying every change made, as well as the date, time, who made it, and any text supplied at the time of commit. Clicking an entry shows the schema objects changed as part of that commit, along with what kind of change occurred (e.g. create, alter, drop). To see how the script was changed, double-click the object to open the configured diff tool.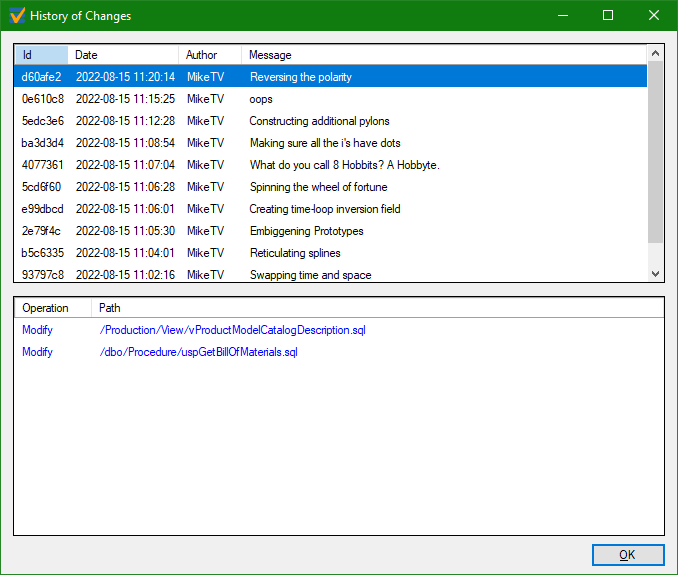 This feature is useful for a number of reasons:
It provides easy access to the version control audit trail.
It can help you track down when a particular problem was introduced.
You can see how an object has changed over time and get ideas for future improvements.
If you need to roll back a change, you can easily find the script for the object before the change was made.
If you want to try this out for yourself, head over to the download page for the VersionSQL 2.0 Preview. I would love to hear your thoughts on it! Keep in mind that this is a preview release, so there may be some rough edges. If you find any issues, please let me know right away.
Thanks for reading and I hope you enjoy the new feature! As always, if you have any questions or feedback, feel free to reach out at [email protected].
— Michael (Founder & Developer)
P.S. If you missed it, be sure to check out my last blog post where I announced VersionSQL 2.0!
P.P.S. Coming soon on the Road to VersionSQL 2.0 series: Undo scripts, deployment scripts, dark mode, and more! Stay tuned…