Introduction
VersionSQL 2.0 is coming out with some amazing new features, but my favorite is the dark mode.
I know, I know, it's such a minor thing, but when you spend as much time in front of a computer screen as I do, anything that can make it a little easier on the eyes is a big deal.
Plus, it just looks really cool.
Arguably more useful is the built-in diff viewer, because now you no longer have to wait for a separate tool to load to compare script revisions. It's already saved me minutes, minutes I say, and those add up!
The Dark Side of the VersionSQL 🌚
If you're like me, you love two things: your data and your dark mode. If you're not acquainted with dark mode, it's fantastic — particularly if you work in dim lighting where a bright screen can tax your eyes.
VersionSQL 2.0 preview 3 will automatically enable dark mode if SSMS' hidden dark theme is selected or if SQL Shades is installed and active.  To manually enable dark mode, go to the VersionSQL->Settings menu in SSMS, switch to the Advanced tab, then pick "Dark" in the color theme drop-down list. Once you do, all of the VersionSQL dialogs and windows will be displayed in a sleek dark color scheme.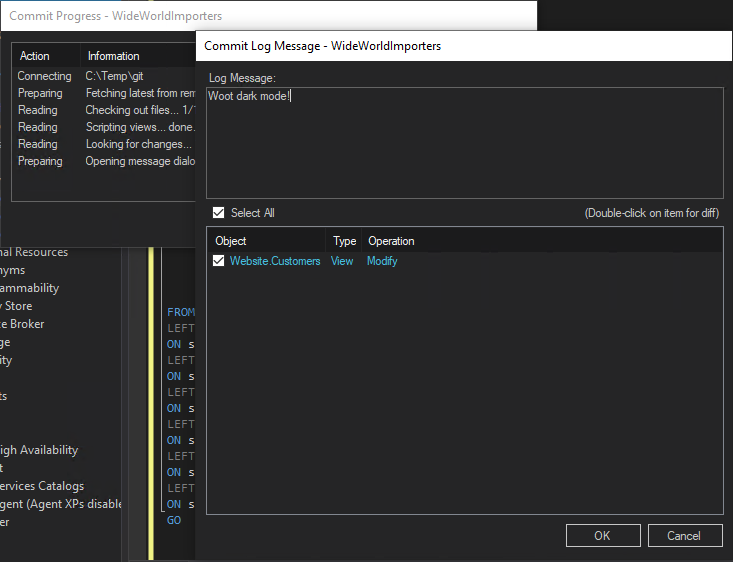 VersionSQL's sexy dark mode, with a SQL Shades cameo
The Diff of All Things 🔍
In addition to dark mode, the third beta release of VersionSQL 2.0 also includes a built-in diff viewer. This makes it easy to see the changes you've made to your database, right from within SSMS.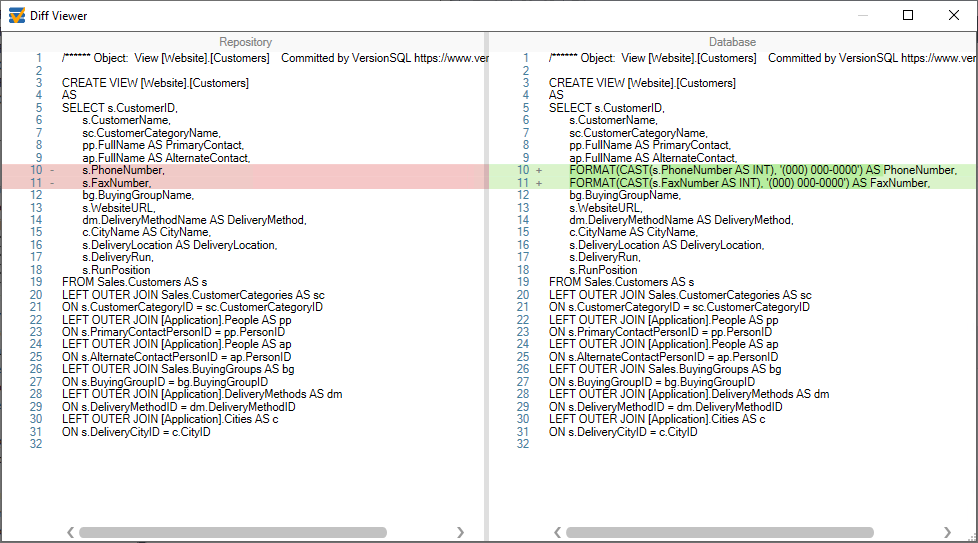 See what changed? Easy peasy.
Of course, you can still point VersionSQL at a third-party diff viewer if you prefer.  No hard feelings.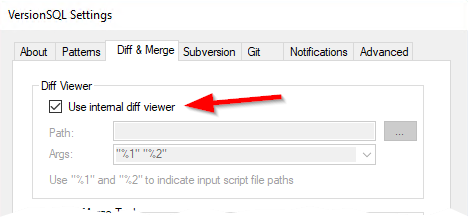 The built-in diff viewer setting, enabled by default.
It's Download Time 🕺
So there you have it: VersionSQL 2.0's third preview release, with dark mode and a built-in diff viewer. It's the little things that make a big difference!  Download VersionSQL 2.0 Preview 3 now and see for yourself!
— Michael (Founder & Developer)
P.S. That's all but one of the teased features!  Bet you can't guess what's coming next…